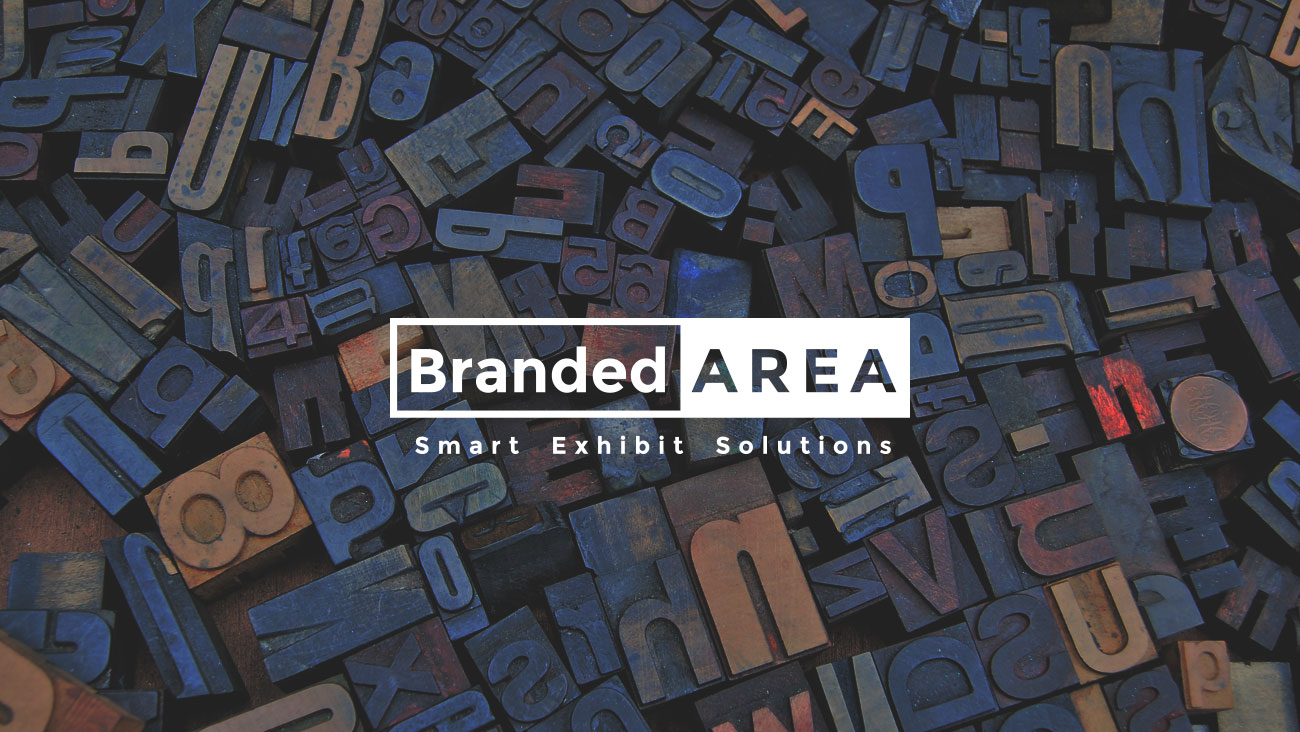 Effective graphic design in a tradeshow exhibit environment
Integrating effective graphics into your tradeshow booth design requires a knowledge of tradeshows and attendee's behavior. Your message must stand out and attract visitors into your space without overwhelming them with information or presenting a disconnected style.
Keep these 5 tips in mind when designing tradeshow booth graphics –
1. Design Consistency –Graphic design should not be done in a vacuum from your overall tradeshow exhibit design. If your booth architecture is sleek and modern, the fonts and style used in your graphics should reflect the same style in order to create a cohesive design environment. Color choices and images should fit the overall style as well. Not everyone is capable of pulling together a cohesive style and graphic design that fits the architecture of a tradeshow exhibit, but most people visiting the booth can sense when a space lacks design cohesion. A cohesive design just feels right and it creates an environment that people respond to in a positive way.
2. Beyond the show floor – Pre-show and Post-show messaging should connect with your in-booth message and theme. A pre-show mailer or a follow-up email should visually connect to the graphic design at your show in order to expand and maximize your message impact and retention with your prospects. Attendees at shows are inundated with many different brands and graphic messages. To make yours stand out and get remembered, use the same style and high- level messaging throughout all messaging related to the show.
3. The 3 second rule –That's the available attention span of an attendee walking down the aisle and glancing at your booth messaging before they look at your neighbor's space and continue walking. Make sure in that critical 3 seconds you have simple, easy to read headlines of your product and service, or better yet, what sets you apart from the crowd. Use bold images that can be seen and recognized from a distance. Don't try and tell the entire story, just enough to draw them in to your space and peak their interest.
4. Brand at ALL levels –There are at least three very distinct viewing points or levels where your brand and graphic message should be seen on the tradeshow floor. Sometimes we see great branding or messaging at one or two, but not all three effectively. Make sure you display your brand and your key graphic messaging through all the levels below.
From a distance – When an attendee is across the hall, scanning and hopefully looking for your brand, make sure it is visible to them. Hanging signs are ideal for this when allowed. A main tower in your booth rising to the maximum show allowed height is another opportunity for this critical long-distance view of your brand and key message.
From the aisle – When an attendee is walking down the aisle, make sure your company brand and your key messaging are in view and readable. By now the distance view is no longer in play. This is where the 3 second rule applies. Messaging here should be short, sweet and intriguing. Give the attendee a reason to come into the booth and find out more. Don't give them both the question AND the answer as that leaves no reason to come in and engage you. Make sure your brand and logo are well represented at this level as well as your messaging. Attendees are seeing a lot of booths, don't let them forget who you are.
Inside the booth – Once an attendee has entered your space, the first 2 levels have done their job and now your graphics should convey key points and benefits of your product or offerings. Not every piece of information should be conveyed in your graphics. Too much information can either overload a visitor or worse, leave them thinking they just learned everything about you and your offerings. That leaves nothing to talk about and one of the main reasons you are at the tradeshow is to conduct face -to-face marketing, which by definition, means talking to your prospects and building a relationship.
5. Brand your entire space – This seems so obvious however, it is worth mentioning a second time because It is amazing how many booths I have stood inside of and looked around without seeing a single logo or brand. They may be well branded up high on the tower or hanging sign, but not in the space. Remember attendees are going from space to space seeing many offerings in a short amount of time, make sure attendees can always see and connect your brand with you and your space no matter where they are standing. The better you reinforce your brand and messaging at your tradeshow, the better retention visitors will have of you and your company once they have left the show.
Branded Area offers expert graphic design and production services to our clients designed to maximize their results on the tradeshow floor.