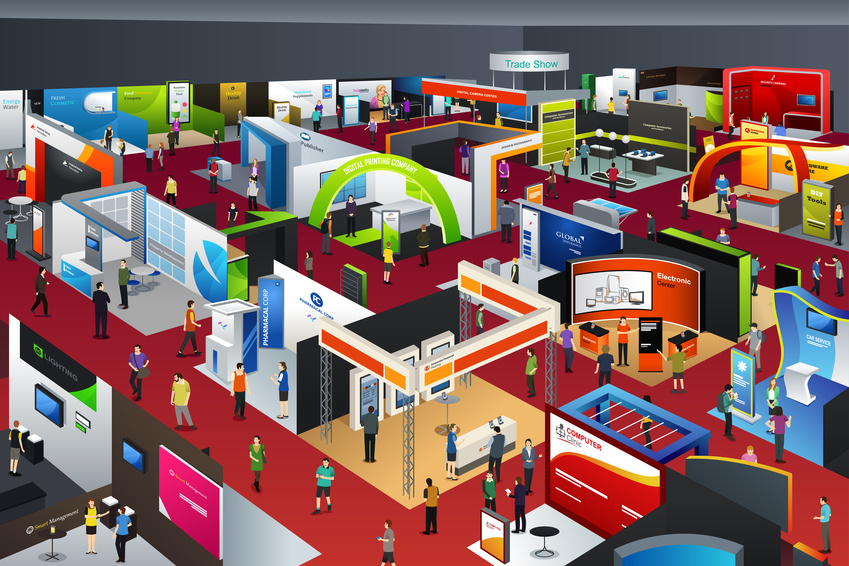 Dos and Don'ts For Your Next Trade Show Exhibit Design
Trade shows can be pivotal marketing events for businesses across numerous industries. But if your trade show booth design is underwhelming or obtrusive, you're not going to get the kinds of connections and reactions you need. That's why it's so important to pay close attention to the details of your tradeshow exhibit design. Not all booths are created equal, and if you want to stand out for the right reasons, you'll want to keep the following dos and don'ts in mind.
Do…
Make sure your booth is visible from a distance

Successful trade show display designs don't just pack a punch when you get close up; they should bring visitors in from some distance away. This is not the time for an understated design. Subtle may work well for other mediums but now is your chance to embrace something bolder. If you really want to make an impact, make sure your message is legible from far away, too. Want visitors to be able to read text from 10 feet away? You'll want to add 10 inches to your font size to accomplish this. This will give visitors an idea of what you're offering and entice them to check you out from across the expo floor.

Make the space inviting

If you want people to come to your booth, you need to invite them to do so. The best way to make this happen is by creating an open, warm space. Think about it: why does everyone want an open-concept floor plan in their homes? Because it feels fresh and welcoming. Use this same idea when coming up with your trade show display design. Create a nice seating area, use nice lighting, and add personal touches that will make visitors want to stop by.

Carefully consider your color palette

Your tradeshow exhibit design should be visually attractive to passersby. While intense pops of color may get their attention, it may not make them want to find out more. The colors you use can instantly communicate important information about your brand. You'll need to use colors that are eye-catching but not off-putting. And above all, don't use too many colors in your design. Choosing just a few will be much more effective. It's best if you use colors that are present in your other marketing tools, like your logo and printed brochures.
Don't…
Trap in or block out visitors

The worst thing you can do is to make your tradeshow exhibit design seem closed off — or make visitors feel as if they're being trapped inside. Closing off the sides of your display will make visitors walk right by. And for those who do venture inside, they'll likely feel a bit claustrophobic and will want to leave quickly. Instead of utilizing a table to separate you from your visitors, keep the space as open as possible.

Use too much text

Keep your message short and sweet. Visitors are not going to stand in front of your booth and read a long block of text. You should not treat your display like a brochure. Save the bulk of the text for other printed materials. For your display, you'll want to keep things to-the-point. As a rule, you'll want to show, not tell.

Overload on images

Images can make a huge impact, but not if you use too many. Blank space is actually a good thing; it helps visitors see what's really important and not feel overwhelmed. Too many images will really derail what you're trying to achieve. Pick your best and most relevant images for your display. You can always use additional ones for your brochures or your website.
Planning ahead for your next expo? Branded Area can take your tradeshow exhibit design to the next level. To find out more about our services, contact us today.